Having 20 years of experience Jaliyana Equipment has been prosperously blooming in the realm of engineering industries.
All the pharmaceutical equipment are used in pharmaceuticals needs to be the highest standards as they are associated with the human health and Jaliyana Equipment known it bitterly hold more than 14 years of experience in the manufacturing of pharmaceutical equipment and having two manufacturing unit respectively at Mumbai and Vadodara. We as pioneer Pharmaceutical machine manufacturer machine like IPC Bin, Vibro Sifter, Bin Blender, Industrial Stirrers, Multi mill, Octagonal Blender, Double Cone Blender, Ribbon Blender, Storage Tank and Vessels, V Blender, IBC container etc. many more which are highly utilized in the Pharmaceutical, food , chemical, cosmetic industries for storage, blending stirring etc. many more. Fostering the latest technological advancement and innovation we have been able to score a paramount presence in the industry. Jaliyana is a reckoned name in the sphere of designing and manufacturing latest technology based process equipment. Due to the wide range of the product available with us we have been able to ensure that the all pharmaceutical equipment is best in class.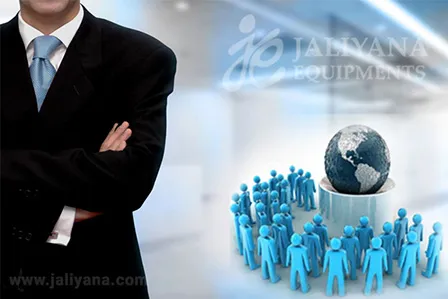 Our superior quality range of equipment is well accredited by our global client for their high efficiency and long lasting performance. Every single unit of this pharmaceutical equipment is made from the AISI 316, AISI 304 top grade SS materials to ensure flawless and excellent performance. These all equipment is made from fine quality equipment under the effective supervision of our production engineers. These machines being designed in accordance with current industrial standards have high performance, uniform finish, durability, efficiency, sturdy design and dimensional accuracy. Our organization hold ISO certification and the product are developed cGMP, GMP standards.
We have achieved remarkable success in our domain under the efficient guidance of our organization head. His intense focus in maintaining long term ethical relation by supplying supreme quality product have awarded by vast clientele base to serve. To strengthen with client and to retain our valued customer we never compromise with the quality norms. Our highly skilled and technically efficient work force leads us to provide the best possible outcomes to the industry for maintaining an inimitable status in the global market.
OUR MOTTO
The main motto of the company is to deliver best quality product at most economic price along with excellent customer services after delivery.
INFRASTRUCTURE
The state-of-the-art Infrastructure of our enterprise is widely in the giant area of the Vadodara. It assists us to motivate our staff member by providing them with a comforting environment to carry fellow man ship. We have isolated our Manufacturing, production and packaging units and every one of them comprise of modernized supplies and hi tech machine. To guarantee the faultless creation of types of Pharmaceutical machinery there are all around prepared research facilities set up for organized quality testing systems. Our generation activities are combined with completely incorporated quality control and logistics facilities.